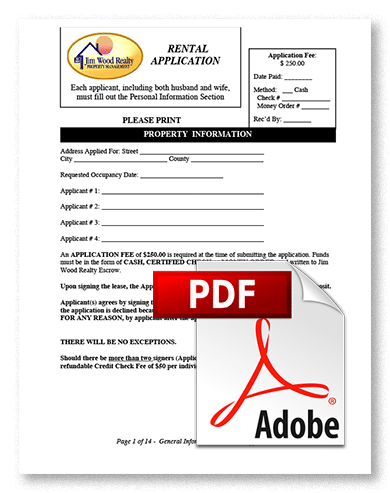 Application
An application fee of $250, in the form of a cashiers check or money order, must accompany your completed application.
■ If you are approved, $200 is applied to your security deposit; the remaining $50 pays for a credit report.
■ If you are not approved, the $200 is refunded to you.
■ If you are approved and you then decline the rental the $250 is not refundable.
Approval
Generally, to be approved, your household gross weekly income (all paying parties combined) must match or exceed the amount of the monthly rent. Example: If the monthly rent is $800, your gross household income must be $800/week (before taxes and deductions).
First Month's Rent, Security Deposit, Cash Payments
We require security deposit and first month's rent in advance to move in. The security deposit is the same amount as the monthly rental rate.
Example: If the rent is $800 then the security deposit will be $800. Therefore, $1,600 (minus the $200 security deposit, or a total of $1,400) will be due at lease signing.
Please note that if making any payments by cash, it is imperative you call the office ahead of time to ensure that a staff member will be on hand to receive your payment and provide you with a receipt.
Pet Deposit
We require a $400 nonrefundable pet deposit per pet. Additionally, we require verification that the pet is on a flea and tick prevention regime. The verification must come from a veterinarian or by providing proof of the regular purchase of the medication required.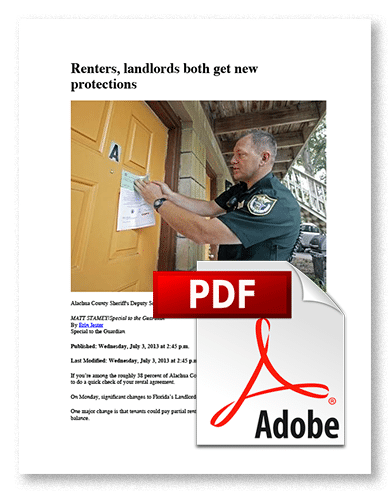 Know Your Rights
Florida law provides protections for both landlords and clients. Download a copy of this Gainesville Sun article describing changes made in 2013 to the Florida Landlord-Tentant Act.